All about this master

---
MS in Entrepreneurship and Innovative Ventures
U.S.A. - North America
Innovation and Project Management
Rochester Institute of Technology - Saunders College of Business

---
MS in Entrepreneurship and Innovative Ventures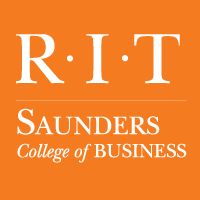 Program overview
THE NEXT GENERATION OF MAKERS & DOERS
IDENTIFYING TODAY'S PROBLEMS TO DELIVER TOMORROW'S SOLUTIONS
The world is changing at an increasing pace as new technologies, products and services improve our lives in significant ways. As an entrepreneur and innovator you lead the movement as you grasp how to identify problems and view them differently to create unique and creative solutions.
Curriculum (courses, subject modules)
The master of science degree in entrepreneurship and innovative ventures focuses on the entrepreneurial and innovation process, by which inventions or creative new ideas are brought to market. Graduates achieve a unique combination of technical and business expertise that is especially relevant to start-up ventures.
Plan of study
The program requires students to complete 30 credit hours consisting of:
Six required core courses designed to increase a student's knowledge of accounting, organizational behavior and leadership, technology management, entrepreneurship, marketing, and product commercialization;
Two innovation courses that increase student's knowledge of managing the innovation process.
Two elective courses that provide students with additional background in areas of interest.
Curriculum
Entrepreneurship and innovative ventures, MS degree, typical course sequence
Course

Sem. Cr. Hrs.

MGMT-740

Organizational Behavior and Leadership

3

MKTG-761

Marketing Concepts and Commercialization

3

MGMT-720

Entrepreneurship and New Venture Creation

3

BLEG-612

Legal and Accounting Issues for New Ventures

3

FINC-605

Financing New Ventures

3

MGMT-765

Applied Venture Creation*

3

Choose two of the following courses:

6

DECS-744

Project Management

VCDE-711

Design Theory and Methods Seminar

MGMT-735

Management of Innovation in Products and Services

MGMT-742

Technology Management

MKTG-776

Product and Brand Management

MKTG-778

Commercialization and Marketing of New Products

Graduate Electives†

6

Total Semester Credit Hours

30
* Students enrolled in Applied Venture Creation (MGMT-765) may work on their own project in the course or they may work on a project in conjunction with Venture Creations, RIT's business incubator.
† Graduate electives taken at RIT may be in courses outside the Saunders College.
Admission conditions
Required diploma(s) :
Tuition & Fees
Between 20902 and 20902 $
Admission requirements
To be considered for admission to the MS program in entrepreneurship and innovative ventures, candidates must fulfill the following requirements:
Hold a baccalaureate degree from an accredited institution,
Submit official transcripts (in English) of all previously completed undergraduate and graduate course work,
Submit a current resume,
Submit an essay,*
Complete a graduate application, and
Submit the results of the Graduate Management Admission Test† (GMAT) or Graduate Record Exam (GRE). (GRE scores more than five years old will not be accepted.)
* Applicants are required to submit an essay based on one of the following topics: (1) Describe an ethical dilemma you have faced and how you resolved it; (2) Explain what you have learned from a managerial, leadership, or team experience that was not completely successfully; or (3) Describe your greatest professional achievement and how you added value to your organization. The essay should be typed, double-spaced, and two pages in length.
† The GMAT may be waived if an applicant has a GPA of 3.25 or higher, or they can present evidence of professional work experience of six or more years. Students who cannot submit a GMAT, GRE, or one of the two waiver requirements may be considered for admission on a case by case basis.
Employment opportunities & career impact
Average time for obtaining the first job offer : Employers place great value in RIT graduates and recognize our students as being Business Ready – DAY ONE, as evidenced by our 94% placement rate
Employment opportunities :
CAREER POSSIBILITIES
Career Possibilities
Be your own boss and launch your startup with a wealth of hands-on resources including:
Work with companies RIT Venture Creations business incubator

Access to our #1 ranked Simone Center for Student Innovation and Entrepreneurship

Collaborate with RIT students in other world-recognized disciplines in science, engineering, computing, arts and design

Pitch ideas to venture capitalists to gain seed money for projects. Or get paid for developing your idea at Saunders Start-up

Access the Construct rapid prototyping makerspace or tap Center for Urban Entrepreneurship, IdeaLab, Innovators Hour programming