All about this master

---
MSc Marketing French Excellence
France - Western Europe
Marketing
NEOMA Business School

---
MSc Marketing French Excellence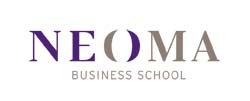 Program overview
The M.Sc.in Marketing French Excellence programme starts with the fundamentals in Marketing . It is structured into three semesters. Courses start at the beiginning of October and finish around the month of April. From then, the curriculum follows on with practical experience, namely an internship, and culminates with the final paper and the oral defense.
Curriculum (courses, subject modules)
SEMESTER 1 – October to December, Fundamentals of Management
• Marketing Research and Consumer Insight
• Operational Marketing
• International Strategic Marketing
• Quantitative Tools for Marketing
SEMESTER 2 – January to May, French Marketing
• Brand Management
• Market Intelligence
• Luxury Marketing
• Distributive Marketing
• High-Tech Marketing
• Cultural Marketing
• Service Marketing
SEMESTER 3 – Between June and December, Marketing in practice
• The internship (4 to 6 months)
• Market Research Dissertation
Admission conditions
Required diploma(s) :
Employment opportunities & career impact
Annual salary after graduation
Average Salary : 40400 € (EUR)
Minimum Salary : 25 € (EUR)
Maximum Salary : 80 € (EUR)
Average time for obtaining the first job offer : 50% of our students find employment before they graduate. Otherwise, the average time lies between 3 and 6 months.
Employment opportunities :
There are several marketing-related opportunities, either in SMEs or in blue-chip companies: for instance, Brand manager, Marketing manager, or Product manager.
Application Deadlines
Applications are received up to the end of July. Our system is flexible and open as aplications are dealt with as they come in. A personalised approach is privileged in the treatment of each application.
Faculty profiles
70% of professors from academia (PhD holders).
30% of professional professors.
50% of the faculty is international.
Campus facilities & Student Life
The programme is taught on Rouen campus, in the region of Normandy, an hour away from Paris. Accomodation is available either on university campus or in the town centre of Rouen. For further information on how to apply for a studio flat or a room, you may check the following link http://www.neoma-bs.com/en/students/life-on-campus/neoma-life-on-campus. A dedicated contact will also guide you in the different administrative steps.