All about this master

---
MSc in Supply Chain and Purchasing Management
France - Western Europe
Launching Awards
emlyon business school

---
MSc in Supply Chain and Purchasing Management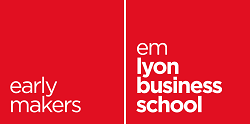 Program overview
Curriculum (courses, subject modules)
In total, 450 hours of face-to-face courses are completed by twice this volume of personal work.
The first term (fundamentals) covers: Extended entreprise (networks, partnerships, ecosystems), International Trade, Business and finance, Total Cost of Ownership, Project management, Operations, Industrial Strategies, industrial programs, Forecasting and planning, Purchasing function and organization, Business, Innovation, Value, Informations systems architecture, Technology overview, Negotiation, Creativity and critical thinking.
The second term (intermediate) covers: Prospective and anticipation, Intercultural business, Legal, Contract Management, Operational excellence, Logistics, Decision Aid techniques, Strategic Sourcing, Make-or-Buy, Key Purchasing Categories, Data science, Industry 4.0, Career development, Master report preparation.
The third term (advanced specialization in purchasing management) covers : Sustainable Purchasing, International Purchasing, B2B Marketing, Business intelligence, Purchasing transformation, Deliveries, acceptance and claims, Purchasing Risk Management, Supplier management & development, Supplier Innovation, Information System for Purchasing, Procurement 4.0
The third term (advanced specialization in supply chain management) covers: Sustainable Supply Chain, International Supply Chain, Financial engineering, Supply Chain transformation, Transportation modes and intermodality, Supply Chain Risk Management, Collaborative activities, New product introduction, Information System for Supply Chain, Supply Chain 4.0.
Admission conditions
Required diploma(s) :
Employment opportunities & career impact
Employment opportunities :
You will start as a junior buyer or supply chain specialist, and after a dozen of months in the field you may become a category manager or a supply chain manager – an alternative is to start as a junior consultant, but beware of acquiring operational credibility. In companies of significant size, you will very soon manage a team, be in charge of a significant budget, and lead projects.
Bear in mind that you need to acquire not only in-depth expertise in your field, but also wide enterprise culture and common language. Purchasing and supply chain management are typically two functions in which, on top of the obvious specific experience, young professionals can participate immediately in various projects in contact with every other function inside the enterprise, and with many partners outside. The exact opposite of narrow-minded routine : after a few years you may find other jobs, in other domains.
Application Deadlines
Session 1
Application Deadline
November 5, 2019
Date of Eligibility
December 3,2019
Session 2
Application Deadline
December 4, 2019
Date of Eligibility
Ferbuary 3, 2020
Session 3
Application Deadline
February 4, 2019
Date of Eligibility
March 30, 2020
Session 4
Application Deadline
March 31, 2020
Date of Eligibility
Mai 18, 2020
Session 5
Application Deadline
Mai 19, 2020
Date of Eligibility
July 9, 2020
Session 6
Application Deadline
July 10, 2020
Date of Eligibility
August 17, 2020
MSc in Supply Chain and Purchaising Management
Morgaine Nielsen
+33 4 78 33 70 77
Faculty profiles
Twenty professors, with full academic qualifications, are responsible for the content and the delivery of the courses. They hold nine different passports, and give this program its international credibility. Half of them have professional experience in the field (including entrepreneurs, CEOs and similar positions). All have a long experience of teaching in several top level institutions in the world, and also of coaching projects, internships, and PhDs.
Campus facilities & Student Life
The campus is located in Lyon, one of the major cities of Europe even if not a political capital city, at heart of one of the most important economic and industrial regions. Many companies and institutions can be contacted easily. Students can find accommodation nearby, in the west side green residential area, or use the public transportation if they prefer to live downtown. The mountains are one-hour drive and the sea side can be reached in three hours.
The second campus is in Shanghai, one of the fastest booming cities in the world. An excellent basecamp to study, work and travel in eastern Asia
Key icons

Additional information / brochure

Video interview with the program director

Request info / Application
Special Awards in this Topic
| School / Program | Informations | |
| --- | --- | --- |
| | | |
| | | |