All about this master

---
Master of International Management
Switzerland - Western Europe
International Management
International University in Geneva (IUG)

---
Master of International Management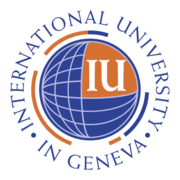 Program overview
In addition to core business courses, the Master of International Management trains students to be skilled in international business practices with a strong cross-cultural focus. The program provides a global perspective on issues such as international marketing, cross cultural negotiation and human resources and aims to link theory to practice. The Master of International Management is comprised of 14 courses taken over one year in the day.
Admission conditions
Required diploma(s) :
Tuition & Fees
Between 36400 and 36400 CHF
Between 30300 and 30300 €
Employment opportunities & career impact
Average time for obtaining the first job offer : 6 months
Employment opportunities :
Career services:
The International University in Geneva provides for counselling to assist students in their career decisions. The International University in Geneva provides for Career Counselling to assist students.
Program enrolment information and statistics
Students Age
Minimum age
21 years
Average age
23 years
Maximum age
30 years
Students Full Time work experience
Minimum Full Time work experience
6 years
Average Full Time work experience
6 months
Application Deadlines
Session 1
Application Deadline
30 July
Date of Eligibility
6 Aug
Admission result
13 Aug
Session 2
Application Deadline
15 Oct
Date of Eligibility
22 Oct
Admission result
29 Oct
Session 3
Application Deadline
4 Feb
Date of Eligibility
11 Feb
Admission result
18 Feb
Session 4
Application Deadline
29 Apr
Date of Eligibility
5 May
Admission result
12 May
Faculty profiles
The faculty at IUG in Switzerland, is international in experience, practical in orientation and focused on their teaching. The faculty members are student-centered and committed to foster a stimulating learning environment.
Campus facilities & Student Life
The International University in Geneva is located in the International Centre Cointrin (ICC), a modern business and secure environment featuring a five-star hotel, three restaurants and a fitness centre.

The campus is conveniently located near the International Airport minutes away from major highways, the railway station, the international organizations, Lake Geneva and the historic old town.
Choose a Master, an MS or an MBA in International Management
The Sector of International Management
Nowadays, we live in globalized world. Globalization affects all areas of political, economic and social life. The economic markets, the societies and the cultures are interconnected through the new technologies. This makes it necessary for professionals to acquire an international vision for management and familiarize themselves with global techniques and tools, especially in the in the field of economy and business. The sector of international business is management with an emphasis on the international aspects of management needed in today's business world. The sector integrates all the compounds of all the areas of business activity in order to develop the most reliable policies and strategies that successfully achieve the objectives of a company in an international and dynamic environment.
Follow a Masters/MS/MBA in International Management
The Master in International Management pursues to train professionals manage companies which operate internationally or to be capable of leading the internationalization process of an organization. This includes: the design, the implementation and the direction of the process to open up to new markets. Therefore, the objective is to train professionals with all the necessary knowledge of the environments in which the company operates, the international economic situation, the institutional framework and the laws and to provide a clear understanding of the economic interdependence that govern markets and sectors and affect the art of business.
To Work in International Management
The importance of international business is bigger than ever as companies around the world become more connected. The world of international business requires experienced professionals with advanced knowledge in various fields of management with the specialization of international. Also this sector demands personal skills such as to be flexible, creative and to have the capability to adapt quickly and easily. These professionals must work and use a different management techniques depending on the country they approach. The prospective professional must be capable to work and manage a company in a dynamic environment with different scenarios and a high level of uncertainty.
International Management in 2019
In a globalized world, companies are working to adapt to this new situation and extract all the benefits which it offers. They required for their new professionals develop strategic vision to enter into new market. Another necessary ability is to be able make informed decisions in a global and dynamic environment using a big quantity of data. It is important to be able to apply the principles of international brand construction and management, creating products adapted for a public of different cultures.
Key icons

Additional information / brochure

Video interview with the program director

Request info / Application

Available spots
| Rank | School / Program | Informations | Apply |
| --- | --- | --- | --- |
| 1 | | | |
| 2 | | | |
| 3 | | | |
| 4 | | | |
| 5 | | | |
| 6 | | | |
| 7 | | | |
| 8 | | | |
| 9 | | | |
| 10 | | | |
| 11 | | | |
| 12 | | | |
| 13 | | | |
| 14 | | | |
| 15 | | | |
| 16 | | | |
| 17 | | | |
| 18 | | | Available spots> Apply now |
| 19 | | | |
| 20 | | | |
| 21 | | | |
| 22 | | | |
| 23 | | | |
| 24 | | | |
| 25 | | | |
| 26 | | | |
| 27 | | | |
| 28 | | | |
| 29 | | | |
| 30 | | | |
| 31 | | | |
| 32 | | | |
| 33 | | | |
| 34 | | | |
| 35 | | | |
| 36 | | | |
| 37 | | | |
| 38 | | | |
| 39 | | | |
| 40 | | | |
| 41 | | | |
| 42 | | | |
| 43 | | | |
| 44 | | | |
| 45 | | | |
| 46 | | | |
| 47 | | | |
| 48 | | | |
| 49 | | | |
| 50 | | | |
| 51 | | | |
| 52 | | | |
| 53 | | | |
| 54 | | | |
| 55 | | | |
| 56 | | | |
| 57 | | | |
| 58 | | | |
| 59 | | | |
| 60 | | | |
| 61 | | | |
| 62 | | | |
| 63 | | | |
| 64 | | | |
| 65 | | | |
| 66 | | | |
| 67 | | | |
| 68 | | | |
| 69 | | | |
| 70 | | | |