All about this master

---
MSc Digital Marketing & Sales
France - Western Europe
E-Business and Digital Marketing
KEDGE Business School

---
MSc Digital Marketing & Sales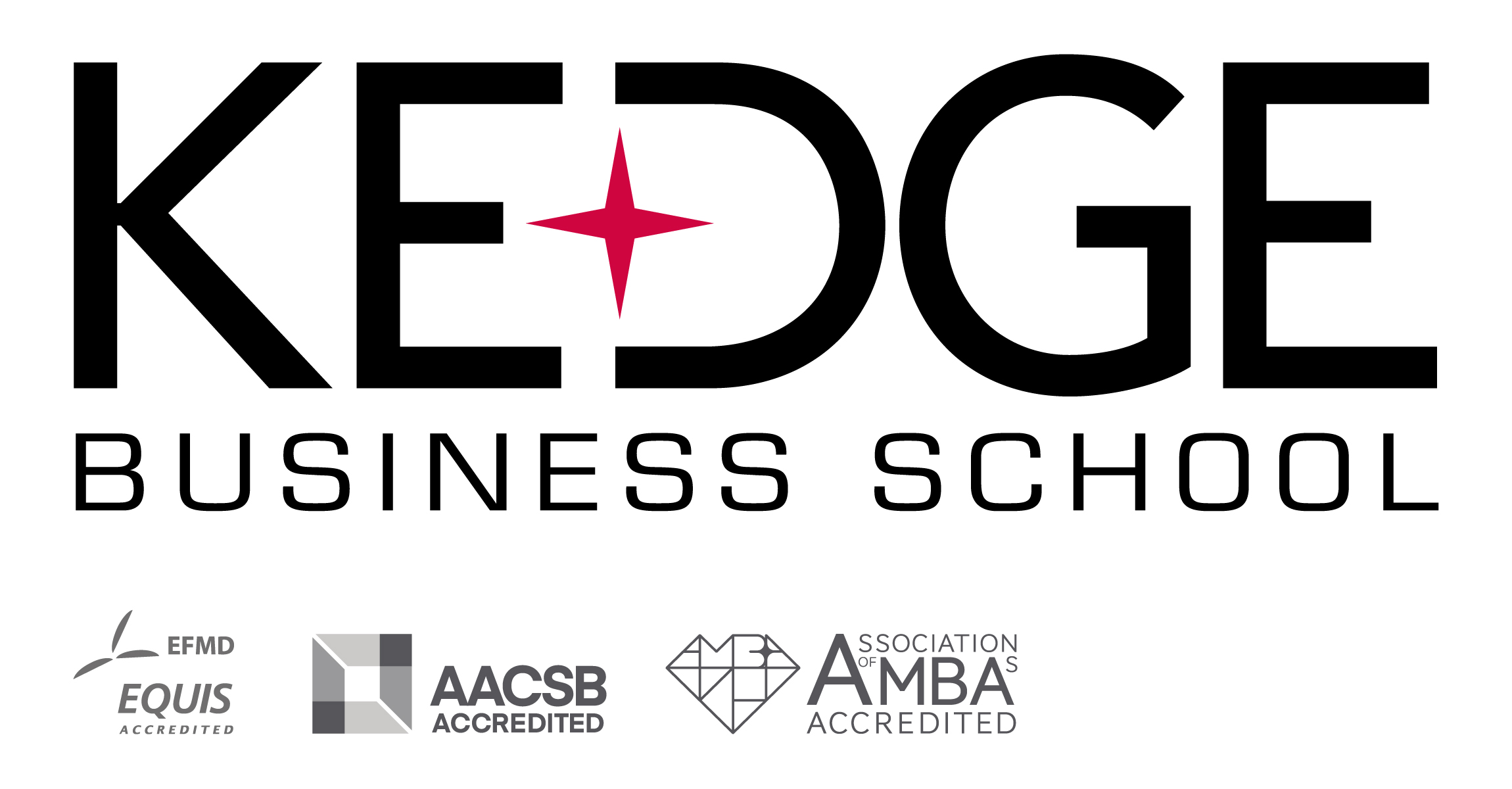 Program overview
The new MSc in Digital Marketing & Sales launched by KEDGE is designed to train students to acquire the analytical and business related skills needed to have a successful career in the digital ecosystem. Its pedagogy is built on a transversal vision based on 4 pillars: strategy, technique, design and digital marketing. Students will graduate as highly skilled digital marketing strategists.

The MSc has a strong industry orientation & partnership approach. It will give you the competencies required by today's employers and opportunities to access to a position at a strategic and tactical level.
Curriculum (courses, subject modules)
Teaching
3 Modules, 12 Classes, 360 hours
The teaching aims to provide the practical and theoretical skills that Marketing Digital and E-Business professionals require. The course model is based on the skills that need to be acquired and mastered and on the cross-disciplinary nature of the skills involved in digital roles.
STRATEGY
NICT law and IT Security
Business Model & Digital Economy
Digital Management Project
E-commerce Management Activities (Payment, KPI, Analytics, M-commerce, Cross Canal, Supply chain, etc.)
DESIGN & TECHNOLOGY
CMS E-commerce and Search Engine Optimisation (Technique)
UX Design and Web Ergonomics
Graphic design (Indesign/Photoshop/Video/Infographics)
DIGITAL MARKETING
Digital Strategy & Content Marketing (Inbound, Brand Content)
Social Media (Community Management and SMO) and Influence Marketing
Advertising & SEA (Display, Affiliation, Facebook Ads, Retargeting)
Loyalty and Data Analytics (E-mailshots, Data Management, Customer Relations)
Adwords (Certification)
Practical
The goal of the experiential module is to immerse the students in the practice of digital, through different "Experiences" complementary to the teachings. The idea is to concretely put into practice what has been learned during the courses and to confront them with the professional life. In order to meet these objectives, we will set up various actions, throughout the year, which will be spread over the two semesters.
SEMESTER 1
Onboarding seminar: Disrupt your mind (Design Thinking & Coding) - 1st week of the autumn term
Soft skills - October
Study Trip - November
Boot Camp - December
Conferences - October/November/December
SEMESTER 2
Job Dating - January/February
Hackathon - March
Soft skills - March
Disintegration - April
Boot Camp - April
Conferences - January/February/March
CONSULTING PROJECT

1 day a week from November to end March
INTERNSHIP FROM 4 TO 6 MONTHS
Admission conditions
Required diploma(s) :
Employment opportunities & career impact
Employment opportunities :
MANAGEMENT
Head of Digital Marketing
Head of E-Commerce
Head of Digital Customer Experience
TEAM MANAGEMENT
E-Commerce Manager
Digital Communication Manager
Digital Strategy Consultant
Traffic and Acquisition Manager
E-Business Commercial Engineer
User Experience Manager
PROJECT MANAGEMENT
Web Product Manager
Digital Product Manager
Digital Marketing Product Manager
E-CRM Project Manager
Digital Web Sales
Social Media Manager
Traffic Manager
Application Deadlines
MSc in 1 year :
Admission level : International Bachelor's degree (4 years)
Duration : 18 months
Degree : Master of Science
Campus : Marseille
Language : English
MSc in 2 years :
Admission level : Bachelor's degree
Duration : 30 months
Degree : Master of Science
Campus : Marseille
Language : English
Faculty profiles
KEDGE Business School's faculty is made up of almost 183 full-time lecturers and several hundred professional and academic speakers who teach at our French and international campuses.
The full-time faculty is comprised of lecturers-researchers, 90% of whom hold a PhD. 44% are international professors from over 30 different countries.
Due to the dynamics of the merger process, globalisation and the growth Kedge Business School is experiencing, it now boasts a substantial and incredibly diverse faculty, a strong asset in the face of new challenges in the fields of research and education.
Academic Excellence:
KEDGE is one of the European leaders in academic research on management, with a very ambitious research output.
FIRST FRENCH MANAGEMENT RESEARCH SCHOOL
KEDGE produces the equivalent of one article in a top-ranking journal every day.
In the 2017 ranking of best schools for research in management performed by L'Etudiant, the leading French magazine covering student orientation, KEDGE Business School came out on top in France with a total of 103 articles across all categories published by its faculty in 2015.
This exceptional performance is the result of its excellence strategy applied since the School's creation in 2013.
With three Centres of Excellence: Marketing, Supply Chain and CSR, and five Centres of Expertise: Wine & Spirits, Innovation & Entrepreneurship, Health Management, Finance Reconsidered and Creative Industries & Culture, the School affirms its academic expertise on several key issues in management sciences.
Campus facilities & Student Life
MARSEILLE CAMPUS
The Marseilles campus is located in the 9th arrondissement, in pleasant surroundings close to the calanques. It is well connected in terms of public transport (with Line 21 serving the city centre
Accommodation
The 9th, 8th and 6th arrondissements are the best ones to look at.
The liveliest and best areas to live in Marseilles city centre are Préfecture, Castellane, Perier, and Cours Julien.
The school is located in the 9th arrondissement, in the Luminy area. As a general rule, it is advisable to choose somewhere that is close to a Bus 21 stop which goes straight to the school.
You can check public transport in Marseilles at: http://www.rtm.fr/
Spaces in residences are limited especially during the Fall semester thus we recommend our International students to look into off-campus accommodation as well.
KEDGE Business School proposes rooms in 2 main student residences which are located on Luminy Campus (Alotra and Estudines).
The monthly rent may vary between 260€ and 470€ (depending on the room size and the residence).
Reservation for rooms on campus need to be done at least 3 months in advance and directly to the Housing department itself. Rooms are allocated on a first-come, first-served basis.
Residences in town
· Furnished Apartments in Marseilles
Partner agencies of Kedge Immo Marseille
· Nespick
Group Facebook of student offers of Kedge BS
Further information about on campus residences and housing options in Marseille can be found in the International Student Handbook.
Visit also our international housing platform www.housinganywhere.com This website is free to use and operating on a student-to-student basis
KEDGE Contact :
Mihaela Gamerre - International Student Office
+33 (0)4 91 82 73 14
Arrival information
Pick up assistance
The closest airport to travel to Marseille is the Marseilles-Provence Airport in the city of Marignane which is located at 30 minutes by car from Marseille town center.
The easiest way to get to town (to the Saint-Charles train station) is to take the airport shuttle:
It leaves every 20 minutes from 5:10am to 00:10am and costs 8,50€ one way and takes 30 minutes.
From the train station, KEDGE BS and its International Students Association InterAct offer each semester a pick-up assistance (free service) to reach our campus. The dates of the pick-up service will be communicated through the dedicated orientation session KEDGE BS website.
Integration
The InterAct association supports the International Student Office in facilitating the integration of international students among the French students through the organization of activities all year round.
Do not hesitate to contact The InterAct association on Facebook
Life in Marseille
Please download the International Student Handbook for more information related to the city of Marseille, transportation, accommodation, estimated expenses, health & insurance, banks, visas, scholarships.
Download files
Choose a Master, an MS or an MBA in E-Business and Digital Marketing
The Sector of E-Learning
The e-business consists of introducing communication technologies to carry out the activities of a business. It is a change in the traditional concept of making business based on the access to internet to markets and resources in a world interconnected and globalized. This new approach covers the whole range of economic activities accomplished on the Internet, whether for the sale of products or the provision of services. The only universal requirement for e-business is a computer and an Internet connection.
Follow a Masters/MS/MBA in E-Business
The Master's Degree in E-Business is aimed at digital enthusiasts who want to expand their skills and become high-level executives in management, marketing, communication and evolve in a highly technological environment. The prospective students should have an entrepreneurship spirit who wish to optimize the processes involved in demand, the design, configuration and integration of the set of elements of a virtual business project, both in the managerial and management areas and in the field of business administration and technological design. The objectives of the program are three: to acquire managerial skills in the digital sector, to know how to use all digital levers to generate economic activity in digital and to be propel to high-level positions in digital sector.
To Work in E-Business
According to Forbes, since 2007 and only in the USA, the E-Business sector, including fulfillment centers, has created 355,000 new jobs. That growth far exceeds the 51,000 jobs lost since 2007 in the "general retail" sector, which includes the brick and mortar retailers competing most directly with e-business: electronics stores; clothing, shoes and jewelry stores; sporting goods, hobby, musical instrument and book stores; and general merchandise stores, including department stores and super centers. Another data which proofs the importance of this sector is the growth of 11,9% in the first semester of 2019 in France. The specialization in this sector can lead to the following jobs: social media manager, digital entrepreneur, traffic analyst, E and M-Business project manager, product development manager E and M-commerce, SEO consultant, SMO consultant, director E-communication and online campaign manager
E-Business in 2019
In E-Business takes part in different aspects of the business world:
Traffic acquisition, traffic management and space purchase.
Big Data
Community management
Wed development, web design and video
Strategies and system's development
E-Business strategies
Key icons

Additional information / brochure

Video interview with the program director

Request info / Application
| Rank | School / Program | Informations | Apply |
| --- | --- | --- | --- |
| 1 | | | |
| 2 | | | |
| 3 | | | |
| 4 | | | |
| 5 | | | |
| 6 | | | |
| 7 | | | |
| 8 | | | |
| 9 | | | |
| 10 | | | |
| 11 | | | |
| 12 | | | |
| 13 | | | |
| 14 | | | |
| 15 | | | |
| 16 | | | |
| 17 | | | |
| 18 | | | |
| 19 | | | |
| 20 | | | |
| 21 | | | |
| 22 | | | |
| 23 | | | |
| 24 | | | |
| 25 | | | |
| 26 | | | |
| 27 | | | |
| 28 | | | |
| 29 | | | |
| 30 | | | |
| 31 | | | |
| 32 | | | |
| 33 | | | |
| 34 | | | |
| 35 | | | |
| 36 | | | |
| 37 | | | |
| 38 | | | |
| 39 | | | |
| 40 | | | |
| 41 | | | |
| 42 | | | |
| 43 | | | |
| 44 | | | |
| 45 | | | |
| 46 | | | |
| 47 | | | |
| 48 | | | |
| 49 | | | |
| 50 | | | |
| 51 | | | |
| 52 | | | |
| 53 | | | |
| 54 | | | |
| 55 | | | |
| 56 | | | |
| 57 | | | |
| 58 | | | |
| 59 | | | |
| 59 | | | |
| 60 | | | |
| School / Program | Informations | Apply |
| --- | --- | --- |