All about this master

---
International MBA
Japan - Far East Asia
MBA full time
Waseda Business School

---
International MBA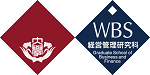 Program overview
The International MBA program is a full-time, two-year program conducted in English. It is our premier MBA program. It is designed to provide an abundance of international exposure with the objective of educating students to become global business leaders. Approximately 70 students from around the world are admitted to this program each year. The relationships developed at WBS continue after graduation. Waseda University, including WBS, boasts the largest scale alumni network in Japan. Being a graduate of Waseda University opens doors of opportunity for business in Japan.
Curriculum (courses, subject modules)
Waseda Business School has designed a flexible curriculum that provides students with a solid foundation in business fundamentals while allowing them the freedom to pursue courses that align with their career strategy.
The core curriculum currently consists of two categories:
Compulsory Core Course
The Compulsory Core Course consists of seven courses, all of which are required.
Marketing
Corporate & Business Strategy
Financial Accounting
Finance
Management of People and Organizations
Global Management
General Management
Compulsory Elective Core Course
The Compulsory Elective Core Course consists of five courses, of which students must take at least three.
Business Data Analysis
Economics for Business Administration
Managerial Accounting
Entrepreneurship
Technology & Operations Management
To complete the program, students must have been enrolled for more than two years, have acquired 50 credits, and have completed their MBA Degree Thesis as the final product of their seminars and research guidance. Students who pass the dissertation screening and exams, and who have reached a satisfactory level of achievement in the comprehensive evaluation of their performance will be awarded the degree of Master of Business Administration (MBA).
In addition to the conditions for completing the International MBA Program, it is recommended that students earn credits in language courses. Students are expected to acquire at least eight credits from language courses. Although these credits are not included in the requirements for program completion, they are strongly recommended to strengthen their global capabilities. Students studying mainly in Japanese are encouraged to take English courses at the Global Education Center and students studying primarily in English are encouraged to take Japanese courses at the Center for Japanese Language. Students may also take other WBS language courses (i.e., English-taught classes for students admitted in April; Japanese-taught classes for students admitted in September) as the recommended language courses. These courses are graded on a "Pass/Fail" basis.
*English language courses are available in the Global Education Center. Please see the website for details.
http://www.waseda.jp/gec/en/graduate/
*Japanese language courses are available in the Center for Japanese Language. Please see the website for details.
http://www.waseda.jp/cjl/en/regist.html
Admission conditions
Required diploma(s) :
Tuition & Fees
Between 3726000 and 3726000 |¥
Additional fees are required for taking language learning courses. Fees vary depending on course; the cost of eight credits (four courses) in English learning is approximately 160,000 yen, while for Japanese learning classes it costs approximately 40,000 yen.
*English language courses are available in the Global Education Center. See website for details.
[URL] http://web.waseda.jp/gec/en/graduate/
*Japanese language courses are available in the Center for Japanese Language. See website for details.
Employment opportunities & career impact
Employment opportunities :
The WBS Career Management Center (CMC) was established to provide career support services specific to the needs of business school students. In addition to conducting various orientation seminars, CMC also circulates an email newsletter called "Weekly Newsletter" sent out and posts announcements at the WBS Administrative Office and at the CMC Counseling Room. Individual counseling on career-related topics (see below) available for students enrolled.
The CMC also provides information on student internships, either received directly from organizations or circulated by the Internship Office of the Waseda University Career Center.
CMC Counseling services includes:
Advice on career path, background research on industry and occupation
Instruction and advice on preparing a Japanese rirekisho/shokumu keirekisho, as well as on English resumes/curriculum vitae
Japanese language proofreading of job application documents for international students
Mock interviewing (Japanese, English) and practical advice
Application Deadlines
Session 1
Application Deadline
Sep 9 2019
Date of Eligibility
Aug 30 2019
Admission result
Oct 3 2019
Session 2
Application Deadline
Nov 4 2019
Date of Eligibility
Oct 25 2019
Admission result
Dec 5 2019
Session 3
Application Deadline
Jan 8 2020
Date of Eligibility
Dec 20 2019
Admission result
Feb 6 2020
Session 4
Application Deadline
Mar 30 2020
Date of Eligibility
Mar 20 2020
Admission result
May 14 2020
Session 5
Application Deadline
May 15 2020
Date of Eligibility
May 1 2020
Admission result
June 11 2020
Be sure to read the "Application Guide" carefully before applying.
Faculty profiles
The faculty at Waseda Business School maintain a healthy balance of academic rigor and practical relevance. Some faculty members have developed their skills by following traditional academic paths (e.g. earning a PhD) while others have entered academia after enjoying extremely successful careers in industry. Mindful of our obligations to the next generation of leaders, all faculty members are passionate about teaching and learning and we consider the competencies that students acquire through the curriculum to be an important measure of our success.
We invite you to get to know our faculty members by clicking on the links to the individual faculty profile pages listed below.
Campus facilities & Student Life
Events and Traditions
WBS students engage not only in academic study but also in extracurricular activities. Students frequently organize events and short group trips in order to make the most of their limited free time.
Some of the events that Waseda students enjoy include:
Visits to Various Japanese Companies
Networking Party
Tokyo Bay "Nomunication" Cruise
Intaraction Events of International Students and Japanese Students
Onsen (Hot Springs) Tour
Ski Trip to Snow Country (Yukiguni)
Hanami Picnics (Picnic under Cherry Blossoms in full bloom)
Visit to Kyoto to see the Autumn Leaves
Visit to Lake Yamanaka
Visit to O-Daiba Statue of Liberty and Life-Sized Gundam Robot
Visit to Akihabara Electric Town
Housing
Accommodations
Housings we offer are divided into two categories by its management body;
1. Waseda University Student Dormitories (Owned and managed directly by Waseda University)
2. Waseda University Affiliated Dormitories (Run by private companies in relations with the University)
We are afraid that Waseda University Students Dormitories give its priority to undergraduate students, and graduate students have very little chance to secure a room.
On the other hand, WBS students certainly have a chance to secure a room at Waseda University Affiliated Dormitories.
For further housing information, please kindly refer to the website below.
For Waseda University dorms and total support for housing: Residence Life Center, Waseda University
Choose a Master, an MS or an MBA in MBA full time
The sector of MBA Full Time
The directives positions must be occupied by managers and entrepreneurs capable of directing and leading organizations in a competitive, global and dynamic environment. Also, they must have the global knowledge of business management in an international environment that allows them to develop the management skills essential to lead complex projects in all kinds of organizations. Thus, the MBA responds to the real needs of the business world.
Follow a Masters/MS/MBA in MBA Full Time
Master in Business Administration (MBA), where students are expected to achieve solid and practical knowledge at an advanced level in the following fields: management and organization, finance, accounting, organization and management of enterprises; accounting; finance; marketing; corporate taxation; commercial law; and quantitative methods for decision making. The MBA is developed from the perspective of integrating the manager into the business. It gives the ability to innovate and to adapt to the new requirements of the market. Therefore, it provides participants with a global and strategic vision of business activity, integrating all the operational areas and offering participants a rich and varied range of management tools that come together to make decisions.
To have an MBA Full Time
A professional can make the decision to study an MBA for two basic reasons: updating their professional concepts or learning basic business management skills. When it comes to upgrading, it is usually the reason why professionals with more time in the business choose the MBA: to continue learning and remain competitive in a globalized market. The academic background of those studying for an MBA is highly valued in the business field. It's a future investment, which adds weight to your resume. In addition to a better salary, the MBA student can achieve better job positions. It must be mentioned, graduate professionals in these programs are more likely to gain leadership positions and senior management in companies.
Taking everything into account, pursuing an MBA leads to the consolidation of a good network of contacts, the gain of new skills and strategic knowledge, the stability and job recognition and the knowledge to start a new company.
MBA Full Time in 2019
The realization of an MBA is an investment decision that improves the probability of being hired or promoted, provides the necessary professional background and develops the skills needed to excel in a competitive and international environment. In a labour market as competitive as today's, one of the facts that makes one candidate stand out from another is being in possession of an MBA. This type of masters are highly valued by the companies and, as a consequence, they are very well paid.
Key icons

Additional information / brochure

Video interview with the program director

Request info / Application

Available spots
Special Awards in this Topic