All about this master

---
MBA
Spain - Western Europe
MBA full time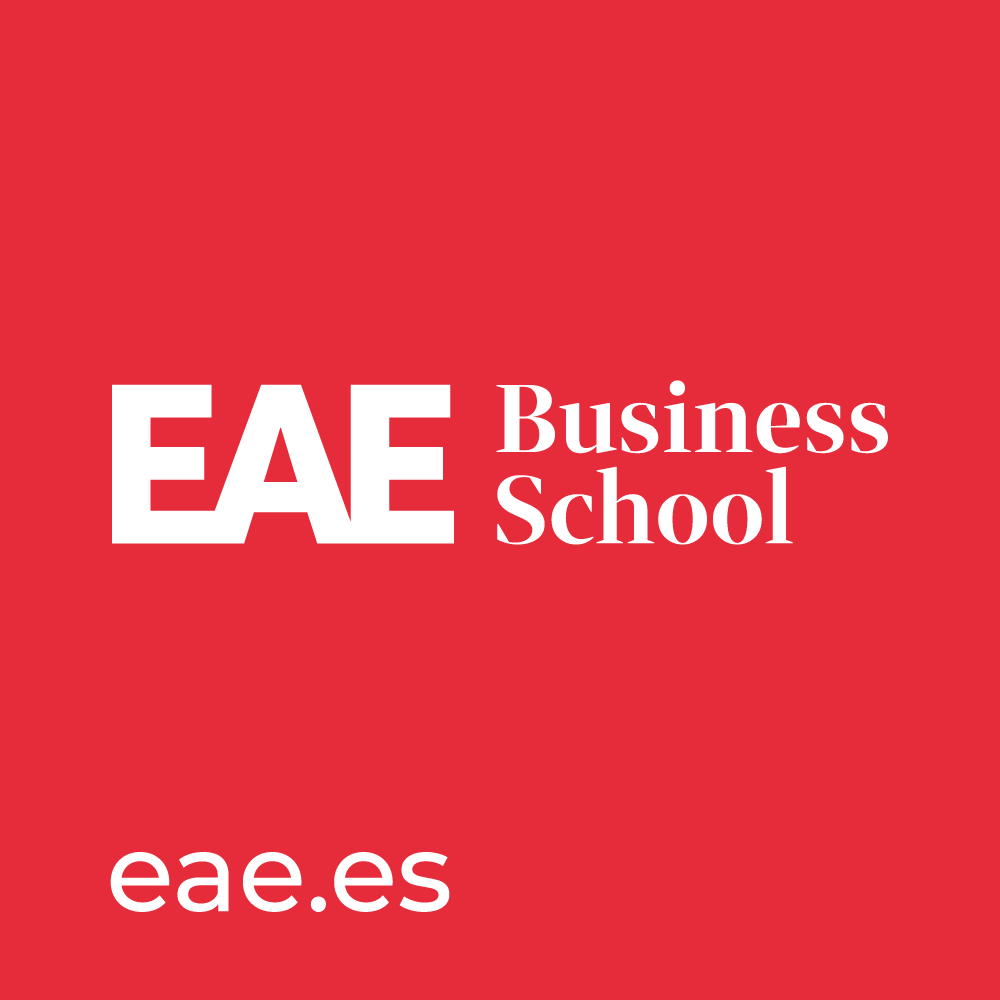 Program overview
EAE Business School's MBA sets the standard of executive training programs, equipping participants to reach positions of responsibility in a company by acquiring the crucial managerial skills required to run companies and institutions.The program is designed to enable participants to consolidate and broaden their knowledge of company management and administration, gaining insight into the leading management tools and strengthening their executive skills and competences.
MBA is a master in management focusing on developing an in-depth understanding of all of the areas involved in the management of organisations, with the experience being enriched by the networking opportunities with the rest of the participants and teachers.
Admission conditions
Required diploma(s) :
Employment opportunities & career impact
Employment opportunities :
91% of graduates find employment within 6 months of finishing the Master
70% improve their  professional situation after graduating
41% find employment before finishing their program
60% increase their salary after their time at EAE
6% set up a business after graduating
​EAE's Professional Careers Services is responsible for promoting networking and serving as a meeting point for current and former students, partner companies and other business collectives interested in contracting EAE professionals.
Employment Portal. The current and former students of EAE have access to the School's Employment Exchange, with over 3,500 partner companies and more than 5,500 offers processed in 2016.
Program enrolment information and statistics
Students Age
Average age
28 years
Students Full Time work experience
Minimum Full Time work experience
2 years
Average Full Time work experience
4-6
Faculty profiles
EAE's academic faculty is made up of an outstanding team of lecturers, university teachers and highly respected professionals in this field of knowledge. They are business experts working as consultants, senior managers and advisers in private companies and institutions. As a result, the participants in this programme acquire constantly updated knowledge with a solid academic basis.
The Faculty in Figures:
447 LECTURES on our academic faculty
74% COMBINE TEACHING duties with their professional and executive activity
37% INTERNATIONAL teachers
96% OF OUR STUDENTS recommend us
102 DIFFERENT nationalities in 2016
+73.000 EXECUTIVES trained since 1958
66% INTERNATIONAL students in 2016
94% OF STUDENTS have professional experience
+3.500 STUDENTS trained in our classrooms in 2016
Campus facilities & Student Life
LIVING IN BARCELONA
In January 2010, Barcelona had more than 1.619.337 million registered citizens. Barcelona has climbed positions in recent years to become one of the most attractive business destinations in Europe. The city is today a very interesting site for new economic activities. A series of international indicators and some testimonials on Barcelona confirm the city's excellent positioning as an attractive city for business due to its:
Strategic geographic location
Complete transport infrastructure
Dynamic economy with sustained growth
Great future projects
Successful foreign investment
Orientation towards technology
Human resources prepared for the future
Unique public-private cooperation
​Excellent quality of life
Barcelona, with a strong Mediterranean character, is a city with a lot of fun activity and considerable participation from citizens. The Barcelona people use their leisure hours to wander through the parks and along the beaches, to visit the exhibition halls and meet in the cafés. The city's intense social life contributes to enriching its citizens' leisure space. It is at night when the people of Barcelona take part in the city's leisure fun offer: they attend music concerts and plays, and they fill the restaurants, musical bars and nightclubs.
The Barcelona City Hall web provided links to all kinds of services and activities
LIVING IN MADRID
Madrid, the capital of Spain, is a cosmopolitan city that combines the most modern infrastructures and its economic, financial, administrative and service centre with an immense cultural and artistic heritage, the legacy of centuries of fascinating history. It has an approximate population of 3,155,359 inhabitants, and a metropolitan area of 5,843,041, standing in 45th place on the world classification, sixth in Europe and first in Spain.
Despite the current tendency to move the production centres to industrial estates located in the metropolitan periphery, the city of Madrid remains the country's second manufacturing focus, only surpassed by Barcelona. In recent years, Madrid has experienced a very significant development of its tertiary activities, which now employ two-thirds of the working population. Rough guidance for non-resident students.
The star sport in Madrid, as well as in the rest of Spain, is football. The city's two most important teams are Real Madrid and Atletico Madrid, although Getafe is also well-known. Basketball is also popular. The two most representative teams of the city, both in the ACB league, are Real Madrid and Estudiantes.
Madrid has excellent facilities for any sport. It has hosted and continues to host innumerable international competitions and was a finalist candidate for the 2012 and 2016 Olympic Games.
Choose a Master, an MS or an MBA in MBA full time
The sector of MBA Full Time
The directives positions must be occupied by managers and entrepreneurs capable of directing and leading organizations in a competitive, global and dynamic environment. Also, they must have the global knowledge of business management in an international environment that allows them to develop the management skills essential to lead complex projects in all kinds of organizations. Thus, the MBA responds to the real needs of the business world.
Follow a Masters/MS/MBA in MBA Full Time
Master in Business Administration (MBA), where students are expected to achieve solid and practical knowledge at an advanced level in the following fields: management and organization, finance, accounting, organization and management of enterprises; accounting; finance; marketing; corporate taxation; commercial law; and quantitative methods for decision making. The MBA is developed from the perspective of integrating the manager into the business. It gives the ability to innovate and to adapt to the new requirements of the market. Therefore, it provides participants with a global and strategic vision of business activity, integrating all the operational areas and offering participants a rich and varied range of management tools that come together to make decisions.
To have an MBA Full Time
A professional can make the decision to study an MBA for two basic reasons: updating their professional concepts or learning basic business management skills. When it comes to upgrading, it is usually the reason why professionals with more time in the business choose the MBA: to continue learning and remain competitive in a globalized market. The academic background of those studying for an MBA is highly valued in the business field. It's a future investment, which adds weight to your resume. In addition to a better salary, the MBA student can achieve better job positions. It must be mentioned, graduate professionals in these programs are more likely to gain leadership positions and senior management in companies.
Taking everything into account, pursuing an MBA leads to the consolidation of a good network of contacts, the gain of new skills and strategic knowledge, the stability and job recognition and the knowledge to start a new company.
MBA Full Time in 2019
The realization of an MBA is an investment decision that improves the probability of being hired or promoted, provides the necessary professional background and develops the skills needed to excel in a competitive and international environment. In a labour market as competitive as today's, one of the facts that makes one candidate stand out from another is being in possession of an MBA. This type of masters are highly valued by the companies and, as a consequence, they are very well paid.
Key icons

Additional information / brochure

Video interview with the program director

Request info / Application
| Rank | School / Program | Informations | Apply |
| --- | --- | --- | --- |
| 1 | | | |
| 2 | | | |
| 3 | | | |
| 4 | | | |
| 5 | | | |
| 6 | | | |
| 7 | | | |
| 8 | | | |
| 9 | | | |
| 10 | | | |
| 11 | | | |
| 12 | | | |
| 13 | | | |
| 14 | | | |
| 15 | | | |
| 16 | | | |
| 17 | | | |
| 18 | | | |
| 19 | | | |
| 20 | | | |
| 21 | | | |
| 22 | | | |
| 23 | | | |
| 24 | | | |
| 25 | | | |
| 26 | | | |
| 27 | | | |
| 28 | | | |
| 29 | | | |
| 30 | | | |
| 31 | | | |
| 32 | | | |
| 33 | | | |
| 34 | | | |
| 35 | | | |
| 36 | | | |
| 37 | | | |
| 38 | | | |
| 39 | | | |
| 40 | | | |
| 41 | | | |
| 42 | | | |
| 43 | | | |
| 44 | | | |
| 45 | | | |
| 46 | | | |
| 47 | | | |
| 48 | | | |
| 49 | | | |
| 50 | | | |
| School / Program | Informations | Apply |
| --- | --- | --- |