All about this master

---
MSc in Sports Industry Management
France - Western Europe
Sports Management
emlyon business school

---
MSc in Sports Industry Management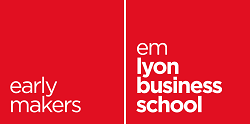 Program overview
In a 16-month period you will study management as it relates to the sports business, and share the classroom with students from all over the world. Starting your studies in Paris, you will acquire the fundamentals of management as they apply to the global sports industry. Consecutively, specialist courses will help you manage the specifics of the sports industry. After your time in the Alps, you will move on to emlyon business school's Asian Campus in Shanghai, for the "Asian Business Environment" module. Throughout the programme you will have the opportunity to visit companies and meet and hear from industry experts.
Admission conditions
Required diploma(s) :
Employment opportunities & career impact
Average time for obtaining the first job offer : More than 60% of the students of the first two cohorts found a job, most of them in sports industry
Employment opportunities :
Programme graduates hold jobs ranging from marketing, sales and supply chain management to communication/advertising, business development, partnerships & sponsoring, as well as human resources.
Companies graduates of the programme are currently working for: Nike, adidas, Puma, Decathlon, Olympique Lyonnais, Salomon, Amer Sport.
Other sports companies students have interned with: Hi Tech Sports, Millet, Fédération Française de Tennis, Oakley, ASO (Amaury Sports Organisation), Fred & Farid, In & Motion, In Front Sports
Program enrolment information and statistics
Students Age
Average age
24 years
Application Deadlines
Session 1
Application Deadline
22/03/2016
Session 2
Application Deadline
07/06/2016
Session 3
Application Deadline
07/07/2016
To find out more about the admission conditions, you can create your account on our website.
Campus facilities & Student Life
To get more information about your life in Paris, The French Alps and Shanghai, please access the programme's website here.