All about this master

---
MSc in Luxury Management & Marketing
France - Western Europe
Luxury Management
emlyon business school

---
MSc in Luxury Management & Marketing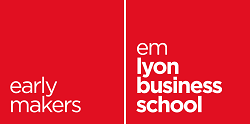 Program overview
The MSc in Luxury Management & Marketing is a 16-month MSc in delivered in association with London College of Fashion and in partnership with Parsons School of Design at The New School in New York City. It is centered around the international luxury industry and combines general management knowledge with specialist knowledge of the luxury industry. Individual coaching, work experience and a unique study period in Paris, London or New York and Shanghai are a full part of the standard curriculum. To help you gain practical experience, the programme also includes an internship.
Admission conditions
Required diploma(s) :
Employment opportunities & career impact
Average time for obtaining the first job offer : 58% obtained their first job before graduation
Employment opportunities :
Main recruiters and internship providers include: A. Lange & Sohne, Audemars Piguet, Bank of America, Banyan Tree, Burj Al Arab, Cartier, Coty, Gucci, Infiniti Europe, L'Oréal, Louis Vuitton, Moet Hennessy, Mont Blanc, Payot and Swarovski
To get more information on employment and internship/job opportunities after graduation please click here.
Program enrolment information and statistics
Students Age
Average age
24 years
Application Deadlines
Session 1
Application Deadline
22/03/2016
Session 2
Application Deadline
07/06/2016
Session 3
Application Deadline
07/07/2016
To find out more about the admission conditions, you can create your account on our website.
Faculty profiles
The Faculty will be represented by a core of permanent professors to be formed gradually around the person heading the team, Michel Phan. As an expert in the Luxury Industry, Michel Phan has extensive international experience across all sectors (leather goods, perfumes and cosmetics, fashion and accesories, selective distribution and retailing, wines and spirits...).
Campus facilities & Student Life
To get more information about your life in Paris and Shanghai, please access the programme's website here.
Choose a Master, an MS or an MBA in Luxury Management
The sector of Luxury Management
Luxury management is just like any other business-oriented profession, except that it deals only in luxury goods, and how to market and manage those specific brands to fit with that unique type of consumer. The main sectors of this profession consists of business, marketing, finance, advertisement, management, and most notably, fashion.
Follow a Masters/MS/MBA in Luxury Management
Programs that specialize in luxury management are constructed to provide a platform for exploring the market of global, luxury goods. Students are taught to understand the uniqueness of managing luxury organizations in the forms of retail studies, luxury branding in marketing and management, marketing strategies, global branding, and finance and wealth management courses. In fashion concentrating students, they learn the ins-and-outs of the fashion business and establish unique strategies that help grow those enterprises.
To work in the specialty's sector
Jobs in this field can be quite standard for anyone specializing in business like communications managers, strategy consultants, Internet project managers, and salespersons. However since workers would be dealing with luxury brands and companies, however it's in its own world of potential job hiring's, due to the size of the consumer pool. Luxury brand managers, fashion brand/luxury goods product managers, fashion retail buyers, fashion PR specialist, luxury brand marketing executives, global sourcing executives, and brand managers are available.
What about the area of this specialty in 2019?
In the world of luxury fashion in 2019, it shows the rise of casual styles and the decline of formal-wear. Luxury brands and companies are starting to try to reach younger, millennial consumers by using more online shopping methods, especially on mobile devices. This targeting of millennial consumers online is continuing to grow. In addition, China has become the next, big target for luxury brands. Combining social media outreach, and the amount of times Chinese consumers shop online, it's not surprising why an increasingly amount of luxury businesses are focusing on China as their next big market.
Key icons

Additional information / brochure

Video interview with the program director

Request info / Application

Available spots
| Rank | School / Program | Informations | Apply |
| --- | --- | --- | --- |
| 1 | | | |
| 2 | | | |
| 3 | | | |
| 4 | | | |
| 5 | | | |
| 6 | | | |
| 7 | | | |
| 8 | | | |
| 9 | | | |
| 10 | | | |
| 11 | | | |
| 12 | | | |
| 13 | | | |
| 14 | | | |
| 15 | | | |
| 16 | | | |
| 17 | | | |
| 18 | | | |
| 19 | | | |
| 20 | | | |
| 21 | | | |
| 22 | | | |
| 23 | | | |
| 24 | | | |
| 25 | | | |
| 26 | | | |
| 27 | | | |
| 28 | | | |
| 29 | | | |
| 30 | | | |
| School / Program | Informations | Apply |
| --- | --- | --- |