All about this master

---
MSc International Trade and Logistics
France - Western Europe
Maritime Management
KEDGE Business School

---
MSc International Trade and Logistics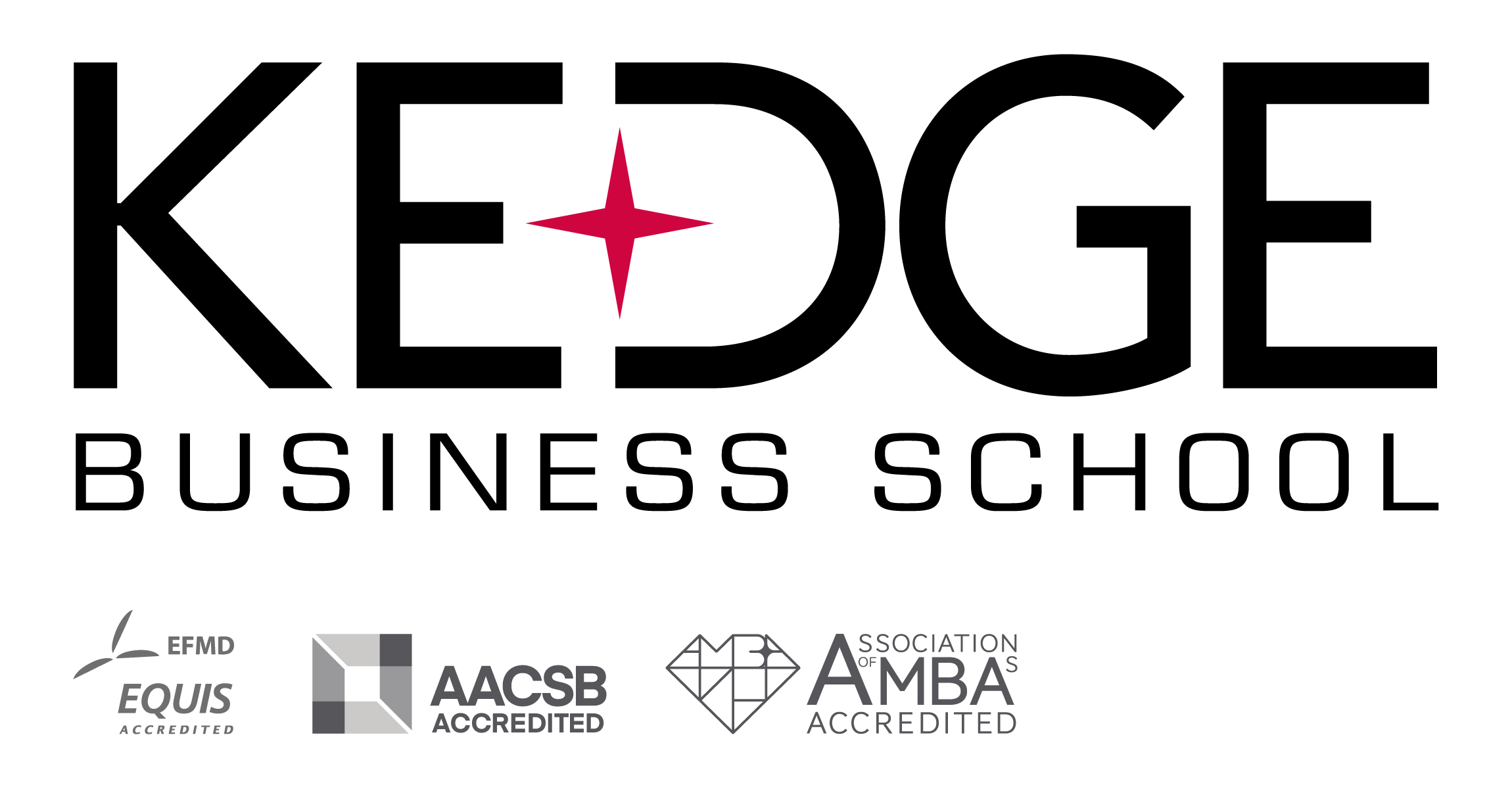 Program overview
A certified Level 1 diploma, a degree ranked amongst the leading MSc programmes in international trade
A Master of Science accredited by the Conférence des Grandes écoles (FRENCH ACCREDITATION FOR BUSINESS AND ENGINEERING SCHOOLS)
Course sanctioned by the Certificat des Conseillers du Commerce Extérieur Français (CCEF).
Triple expertise: international trade, logistics, transportation.
70% of our lecturers are practitioners
Extensive and powerful professional and alumni networks
Strong career prospects in a wide range of high-potential specializations and industries
Conferences and field visits, for a concrete view of operational matters
Presentation of case studies and group projects before jury panels made up of practicing professionals.
Curriculum (courses, subject modules)
SEMESTER 1 & 2
Upgrade in International Trade and Finance at disposal of students
SEMESTER 1
• International risk management
• International marketing
• International carriage management
• Port management and strategy
• International carriage law
• Logistics, fundamental concepts
• Customs operations
• Presentation of a project in front of a professional panel
SEMESTER 2
• Multimodal transport management
• International negotiation
• Geopolitics and International Finance
• Law of international contracts
• Logistics, flows and inventory management
• Information system and logistics
• Presentation of a project in front of a professional panel
SEMESTER 3
CORPORATE PROJECT
INTERNSHIP ABROAD OR IN FRANCE (4-MONTHS MINIMUM)
MASTER THESIS
IN-COMPANY CONSULTANCY PROJECT OCTOBER TO MARCH
Admission conditions
Required diploma(s) :
Tuition & Fees
Between 15000 and 23500 €
1. ONLINE APPLICATION
You need to connect on join.kedge.edu
We'll get back to you within 15 days maximum
MANDATORY DOCUMENTS
CV
Copy of your passport
Highest degree certification
Certificate of achievement or transcript of your current studies
TOEFL ≥ 500 / IBT ≥ 80 / TOEIC ≥ 750 / IELTS ≥ 5,5 except for students who have studied in English abroad (at least 2 years)
120 euros of application fee to pay online to send your application. (Prior to submitting your online application, you will be prompted to pay the non-refundable application fee. The application fee must be paid online by credit card when you submit your application. Your application will not be complete until we receive payment of the application fee. The application fee may not be applied toward any future applications at KEDGE Business School.)
NOT MANDATORY - Other documents
Other degree
Recommandation/Cover letter
University/school certificate
GMAT / GRE score will be to the candidate's advantage
2. SKYPE INTERVIEW
This is a 30-minute Skype interview for all applicants regardless of their nationality or location. As soon as your application file is registered, you will receive an email from KEDGE to organise your interview.
IMPORTANT: Apply as soon as possible because of the visa procedure.
The admission is made on your file examination + skype interview.
Employment opportunities & career impact
Average time for obtaining the first job offer : 98% of graduates find a job within 6 months after graduation
Employment opportunities :
This very hands-on programme opens up careers in a wide range of high-potential functions:
INTERNATIONAL TRADE: Export Sales Manager / Back Office Manager / Business Developer / Head of Export Sales Administration, Import/Export Manager / International Purchaser /Sourcing Manager
INTERNATIONAL TRANSPORT: Head of Transport Operations and International Logistics / Intermodal Manager / Operations Manager / Transit Manager, Supply Chain Coordinator
MARITIME: Shipping Line Manager / Import Manager, Export Manager / Profit Centre Manager /Cargo Flow Manager, Ship Manager, Harbour Director
KEY FIGURES
€34 000 average annual salary
98% of graduates find a job within six months after graduation
over 2 500 alumni globally
PARTNERS :
Airbus, Alinea, Alten, Bourbon Management, Carrefour Supply Chain France, CMA-CGM, DB Shenker, Decathlon, Esso SAF, Feeder, Gemalto, Geodis Wilson France, Pôle Mer Provence-Alpes-Côte d'Azur , SDV Logistique et Carburants Spéciaux, Unilever, Veolia Water STI
Program enrolment information and statistics
Students Age
Average age
22 years
Application Deadlines
MSc in 1 year :
Admission level : International Bachelor's degree (4 years)
Duration : 18 months
Degree : Master of Science
Campus : Marseille
Language : English
MSc in 2 years :
Admission level : Bachelor's degree
Duration : 30 months
Degree : Master of Science
Campus : Marseille
Language : English
Faculty profiles
KEDGE Business School's faculty is made up of almost 183 full-time lecturers and several hundred professional and academic speakers who teach at our French and international campuses.
The full-time faculty is comprised of lecturers-researchers, 90% of whom hold a PhD. 44% are international professors from over 30 different countries.
Due to the dynamics of the merger process, globalisation and the growth Kedge Business School is experiencing, it now boasts a substantial and incredibly diverse faculty, a strong asset in the face of new challenges in the fields of research and education.
Academic Excellence:
KEDGE is one of the European leaders in academic research on management, with a very ambitious research output.
FIRST FRENCH MANAGEMENT RESEARCH SCHOOL
KEDGE produces the equivalent of one article in a top-ranking journal every day.
In the 2017 ranking of best schools for research in management performed by L'Etudiant, the leading French magazine covering student orientation, KEDGE Business School came out on top in France with a total of 103 articles across all categories published by its faculty in 2015.
This exceptional performance is the result of its excellence strategy applied since the School's creation in 2013.
With three Centres of Excellence: Marketing, Supply Chain and CSR, and five Centres of Expertise: Wine & Spirits, Innovation & Entrepreneurship, Health Management, Finance Reconsidered and Creative Industries & Culture, the School affirms its academic expertise on several key issues in management sciences.
Campus facilities & Student Life
MARSEILLE CAMPUS
The Marseilles campus is located in the 9th arrondissement, in pleasant surroundings close to the calanques. It is well connected in terms of public transport (with Line 21 serving the city centre
Accommodation
The 9th, 8th and 6th arrondissements are the best ones to look at.
The liveliest and best areas to live in Marseilles city centre are Préfecture, Castellane, Perier, and Cours Julien.
The school is located in the 9th arrondissement, in the Luminy area. As a general rule, it is advisable to choose somewhere that is close to a Bus 21 stop which goes straight to the school.
You can check public transport in Marseilles at: http://www.rtm.fr/
Spaces in residences are limited especially during the Fall semester thus we recommend our International students to look into off-campus accommodation as well.
KEDGE Business School proposes rooms in 2 main student residences which are located on Luminy Campus (Alotra and Estudines).
The monthly rent may vary between 260€ and 470€ (depending on the room size and the residence).
Reservation for rooms on campus need to be done at least 3 months in advance and directly to the Housing department itself. Rooms are allocated on a first-come, first-served basis.
Residences in town
· Furnished Apartments in Marseilles
Partner agencies of Kedge Immo Marseille
· Nespick
Group Facebook of student offers of Kedge BS
Further information about on campus residences and housing options in Marseille can be found in the International Student Handbook.
Visit also our international housing platform www.housinganywhere.com This website is free to use and operating on a student-to-student basis
KEDGE Contact :
Mihaela Gamerre - International Student Office
+33 (0)4 91 82 73 14
Arrival information
Pick up assistance
The closest airport to travel to Marseille is the Marseilles-Provence Airport in the city of Marignane which is located at 30 minutes by car from Marseille town center.
The easiest way to get to town (to the Saint-Charles train station) is to take the airport shuttle:
It leaves every 20 minutes from 5:10am to 00:10am and costs 8,50€ one way and takes 30 minutes.
From the train station, KEDGE BS and its International Students Association InterAct offer each semester a pick-up assistance (free service) to reach our campus. The dates of the pick-up service will be communicated through the dedicated orientation session KEDGE BS website.
Integration
The InterAct association supports the International Student Office in facilitating the integration of international students among the French students through the organization of activities all year round.
Do not hesitate to contact The InterAct association on Facebook
Life in Marseille
Please download the International Student Handbook for more information related to the city of Marseille, transportation, accommodation, estimated expenses, health & insurance, banks, visas, scholarships.
Download files
Choose a Master, an MS or an MBA in Maritime Management
The Sector of Maritime Management
Maritime management is a sector of business that promotes the strengthening and regulation of the maritime industry. Maritime research management refers to increasing sustainability practices within sea harvesting practices. It is an industry that focuses on creating policies that will reduce the amounts of sea accidents related to human error as well as on site boat incidents. This sector is dependent upon recognition and coordination of multiple organizations who have the abilities to change and shift the conditions of this essential industry.
Follow a Masters/MS/MBA in Maritime Management
A masters in maritime management is composed of both technical and non - technical training; as this sector includes education and application of both hard and soft skills. The discipline attempts to combine multiple disciplines in order to create a mutual understanding between the internal and external sectors of the industry. There is currently a push to increase the safety standards within this sector which requires new policies which must be thoughtfully and adequately developed. That is what this sector will train and educate their students to be; thoughtful and methodological to develop procedures that make the difference in the industry and ensure that it is safe and properly developed for all who enter it.
To Work in the Specialty Sector of Maritime Management
Working in the sector of Maritime Management is guaranteed to provide those who enter the sector a career that will serve as an amazing path into solving environmental, legal, and social issues that are all associated with Maritime Management. This sector will provide an exciting career that will allow for personal and professional development; as such a specialized sector will provide a career full of innovation and insight.
The Maritime Management in 2019
In 2019, maritime management refers to being able to shift and manage policies to ensure safety and inclusiveness within the industry. Maritime management is very specific and a unique sector to manage because it is a field that requires extreme regulation to ensure its success. Those who train in this specialty will acquire skills unparalleled in the fields of managing and marketing experience. This year brings an opportunity for those who specialize in this field to be a part of its modernization.
Key icons

Additional information / brochure

Video interview with the program director

Request info / Application
| Rank | School / Program | Informations | Apply |
| --- | --- | --- | --- |
| 1 | | | |
| 2 | | | |
| 3 | | | |
| 4 | | | |
| 5 | | | |
| 6 | | | |
| 7 | | | |
| 8 | | | |
| 9 | | | |
| 10 | | | |
| 11 | | | |
| 12 | | | |
| 13 | | | |
| 14 | | | |
| 15 | | | |
| 16 | | | |
| 17 | | | |
| 18 | | | |
| 19 | | | |
| 20 | | | |
| 21 | | | |
| 22 | | | |
| 23 | | | |
| 24 | | | |
| 25 | | | |
| 26 | | | |
| 27 | | | |
| 28 | | | |
| 29 | | | |
| 30 | | | |
| 31 | | | |
| 32 | | | |
| 33 | | | |
| 34 | | | |
| 35 | | | |
| 36 | | | |
| 37 | | | |
| 38 | | | |
| 39 | | | |
| 40 | | | |
| 41 | | | |
| 42 | | | |
| 43 | | | |
| 44 | | | |
| 45 | | | |
| 46 | | | |
| 47 | | | |
| 48 | | | |
| 49 | | | |
| 50 | | | |